Birds of Surrey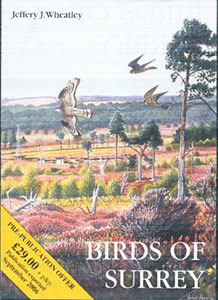 by Jeffery Wheatley
A comprehensive account of the birds of Surrey status, distribution and history, based on many years of research and fieldwork. This is a County Avifauna which is superbly produced and illustrated, and includes all the features that you would expect to see in such a publication. It is anticipated that it will become a standard work of reference.
THE WRITER – Jeffery Wheatley was the County Recorder of Surrey and his published works include the Surrey section of the series "Where to Watch Birds". He brings the same readable style to this major work which benefits from the consistency of a one-writer approach. This is evident in the Species Accounts which, in addition to vignettes and breeding distribution maps, are illuminated by fascinating historical facts. Following the landmark avifaunas of Bucknill (1900) and Parr (1972), the writer sets out details of the rapid growth of information since then.
THE PRINCIPAL ARTIST – John Davis is a member of the Society of Wildlife Artists whose work has illustrated many wildlife publications. A detail from his evocative painting of a Honey Buzzard at Thursley appears on the front of the dust jacket.
Contents include:
The systematic list and species accounts. (This is the core of the avifauna and is both full and authoritative with the added dimension of historical background)
Breeding distribution maps
Analysis of breeding surveys
Population estimates
Charts
Ground and aerial photographs
Vignettes, paintings and line drawings
Background Chapters:
Climate
History
Geology
Personalities
Other Societies
Habitat
Although an inland county, Surrey has a wide range of habitats from large reservoir groups to lowland heath. Its diversity sustains a rich and varied bird life and the development of this landscape is explored by the author. The text is supported by atmospheric and habitat focused paintings by John Davis, together with photographs of a range of sites.
The landscape mosaic
Important reservoir groups at Walton and Spelthorne
Significant areas of prime heathland with further sites under restoration
The Thames and tributary rivers
The chalk downland and scrub of the North Downs
Gravel pits and sewage farms
Lakes and farmland
The urban sprawl.
The imprint of man is clearly evident in the county landscape which, like many southern counties, is largely artificial. The book examines the change in land use and its effect on birds, beginning with the clearance of the wealden woodland.
How to place an order (cost £25.00 inc postage) – or see Membership offers
By Internet banking
1. Credit account No 59951338 Sortcode 60:09:21 with the sum of £25.00 quoting your postcode and then surname as the reference.
2. e-mail with the following information
I have just credited your bank account with the sum of £25.00 quoting ref …………… Please supply me with a copy of Birds of Surrey.
My details are:
Name:
Address:
Postcode:
Tel no: