Field Meetings
Field meetings are open to members and non-members alike.
---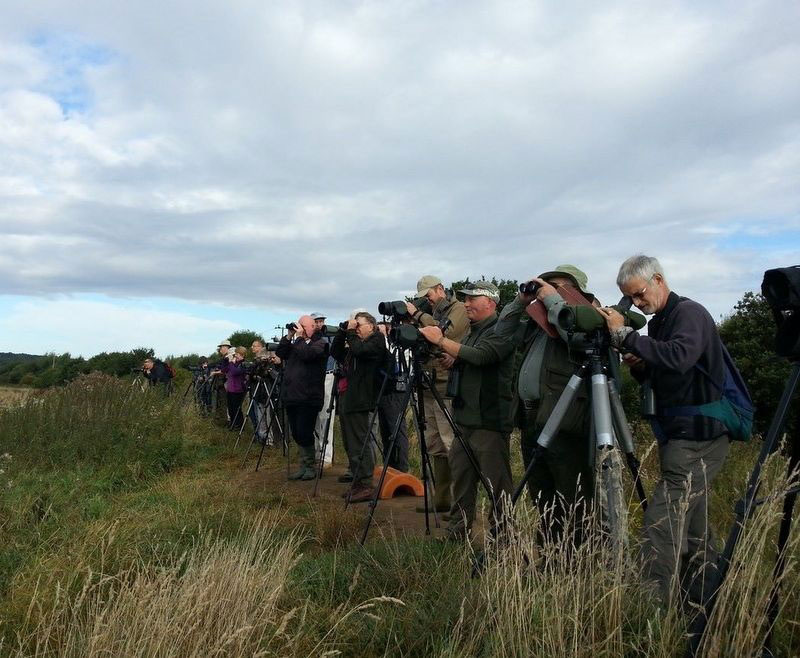 Field Meetings 2020
Saturday 14th March 2020 – Horsell Common
Meet at Heather Farm Cafe at 09.30 (GU21 4XY, map ref TQ992606). Leader Tony Cummins.
Sunday 29th March 2020 – Tice's Meadow Nature Reserve (rescheduled from 15th February 2020)
Meet by the reserve entrance at the Pea Bridge on Badshot Lea Road (B3208), at 09.30, map ref SU86759 49018. Leader Tice's Meadow Bird Group. Waterproof footwear recommended. The postponement is for a long period in the hope the site will have dried out by then.
Saturday 25 April 2020 – Papercourt Marshes
Meet at 10.00 am in the car park on Tannery Lane, Send, map reference TQ030563, postcode GU23 7EF. Leader Carey Lodge.
Sunday 3 May 2020 – Nightingales
Venue yet to be decided dependant on where Nightingales have been heard singing in Surrey in April 2020. This field trip will be led by Penny Williams and, as well as listening out for Nightingales, the purpose of the trip will be to listen for and find the other early morning songsters. As soon as the location has been chosen this website will be updated with the time and location. Members of the club will also be emailed full details of this field trip once finalised.
Sunday 31 May 2020 – Clandon Wood Nature Reserve Bioblitz
Join Matt Phelps for a guided walk around his workplace, to survey the bird species present as part of a weekend-long BioBlitz. Meet by the pavilion at 10.00am. Subject to the weather, bird ringing will be taking place too.
The entrance to the nature reserve and burial ground is off the eastbound A246 just east of Guildford and the first left turn just past the crossroads near Clandon Park, map reference TQ048512, postcode GU4 7FN (GU4 7TT for older Sat Navs).
Saturday 13 June 2020 – Tice's Meadow Bioblitz
We will be joining the Tice's Meadow Bird Group on their bird walk around the reserve as part of their annual Bioblitz. A member of the committee will accompany the walk, which will commence at 5.30 pm from the Bioblitz site. There will also be bird-ringing demonstrations from 8.00 am to 4.00 pm, weather permitting. Other activities are also taking place during the day and the club will have a presence there all day too. Parking is at the reserve entrance near the Pea Bridge on Badshot Lea Road (B3208), map ref SU867490.
---
Generally

All the walks are FREE (except for travel costs, car park or entrance fees).
Everybody is welcome, from beginners to experts. However any children aged 16 or under must be accompanied by an adult.
Most sites visited are, unfortunately, not suitable for wheelchairs with rough, and often muddy, footpaths.