---
Field Meetings
Here is some feedback from a recent trip "we learnt such a lot but also everyone was so friendly & we had some lovely chats, sharing suggestions of places to visit, stories of bird related holidays & even book recommendations. We would love to join the Club"
See below for more general information about our trips.
Field Meetings 2023
December 10th , Mitcham Watermeads:
A great example of nature thriving within an urban area with regular sightings of wintering Blackcaps and Chiffchaffs (a few Siberians in recent years), Firecrest, Kingfisher, Grey Wagtail and Cetti's Warbler. Meet 9am at entrance to Park on the London Road A217, adjacent to new bridge. Park opposite in Wandle Road SM4 6AH. Leader: Andy 07884 063589
Field Meetings 2024
January 7th, 2024, London Wildfowl and Wetland Centre:
A winter's walk around this London premier reserve to see a host of wintering wildfowl and a chance to also see Bittern, Goldeneye, Water Pipit, Green Sandpiper, Snipe and Jack Snipe. This time of year often allows good views of both Kingfisher and Cetti's Warbler. There is an entry fee; for more details: www.wwt.org.uk/wetland-centres/london/ Meet outside main entrance at 09.30. Leader: Andy 07884 063589
February 4th, Rainham Marshes
A mix of wet grasslands, ditches, scrub, wetland and woodland is ideal for a variety of birds. Some areas of the tall grass and scrub are left unmanaged and provide hunting grounds for wintering short eared owls. See the following link for more details: Rainham Marshes Nature Reserve, Essex – The RSPB.
Meet outside the visitor centre at 09.30/40, bring RSPB membership cards if you have one (entry charge if not a member). Address: New Tank Hill Rd, Purfleet, Essex, RM19 1SZ. NB Car park opens at 09.30 and toilets and cafe are available. Leader: Andy Harding
Future Dates for the Diary, details TBC: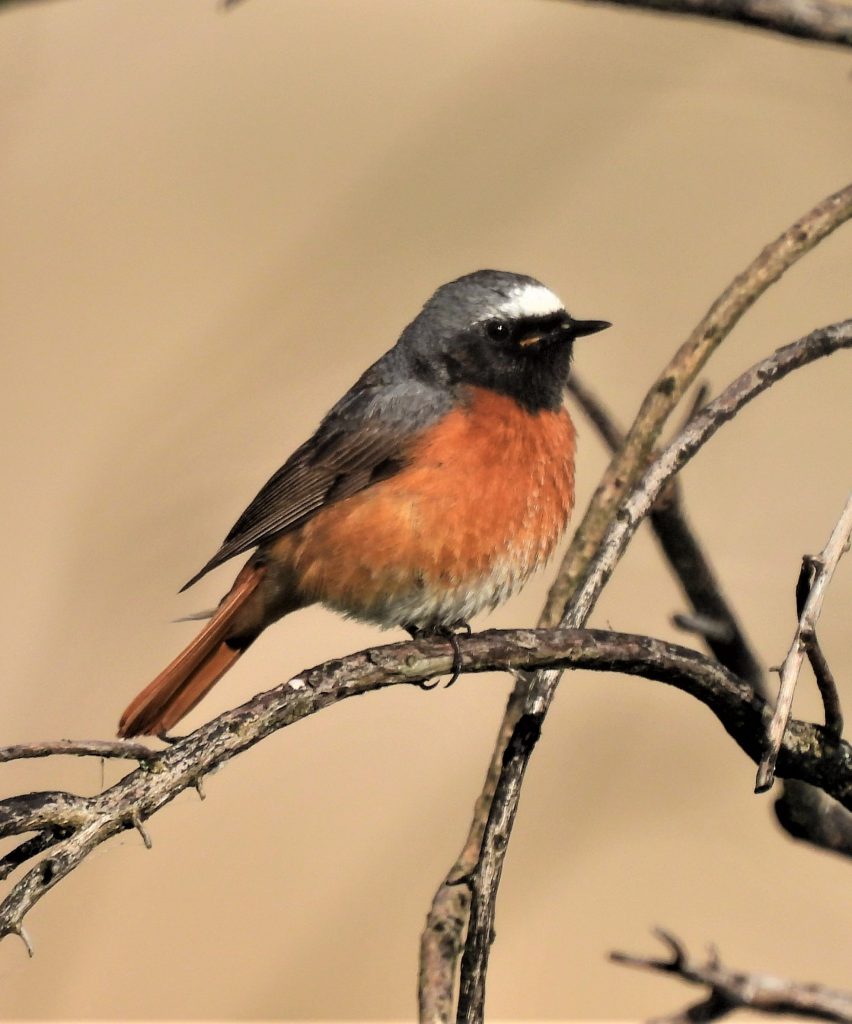 February 21st Unstead Nature Reserve/ Cutt Mills (Mid-week)
March 9th Abberton Reservoir
March 21st Leith Hill (mid-week)
April 10th Beddington Farmlands (mid-week)
April 20th Pulborough Brooks:
May 10th Thursley (evening 7pm, Friday)
May 17th Newlands Corner (Friday)
June 8th Stodmarsh , Kent
Redstart, Thursley 2022 Andy Harding
General Information about our Field Trips:
All the walks are FREE (except for travel costs, car park or entrance fees) and most trips will be for the morning only; sometimes we will run over a little so it is always a good idea to bring something to eat and drink. Unless otherwise stated, they will be lead by Andy Harding (contactable on 07884 063589 ).
Non-members are welcome to attend but priority will be given to members if spaces are limited; also if a non-member attends 3 or more meetings, they will be required to join. Although, not essential, we prefer it if you can let the trip leader know if you are planning to come and, in case of weather warnings, check the website and/or leader, before leaving in case we have to cancel at short notice. We have a Surrey Bird Club Field Trips Whatsapp Group and encourage attendees to join this to help travelling queries, trip updates, car shares etc. If you would like to join this group, please message Andy on the above number.
Children are welcome on trips but must be accompanied by a responsible adult.
The Surrey Bird Club hereby gives notice that all arrangements made by the Club for any person taking part in any meeting, visit or other activity are made by the Club as agents for that person and that consequently the Club accepts no responsibility for any loss, injury or inconvenience arising from his or her participation in Club activities. Passengers accept lifts in private cars at their own risk.
For all enquiries, email Ed Hilton at: