Nightingales – Where in Surrey?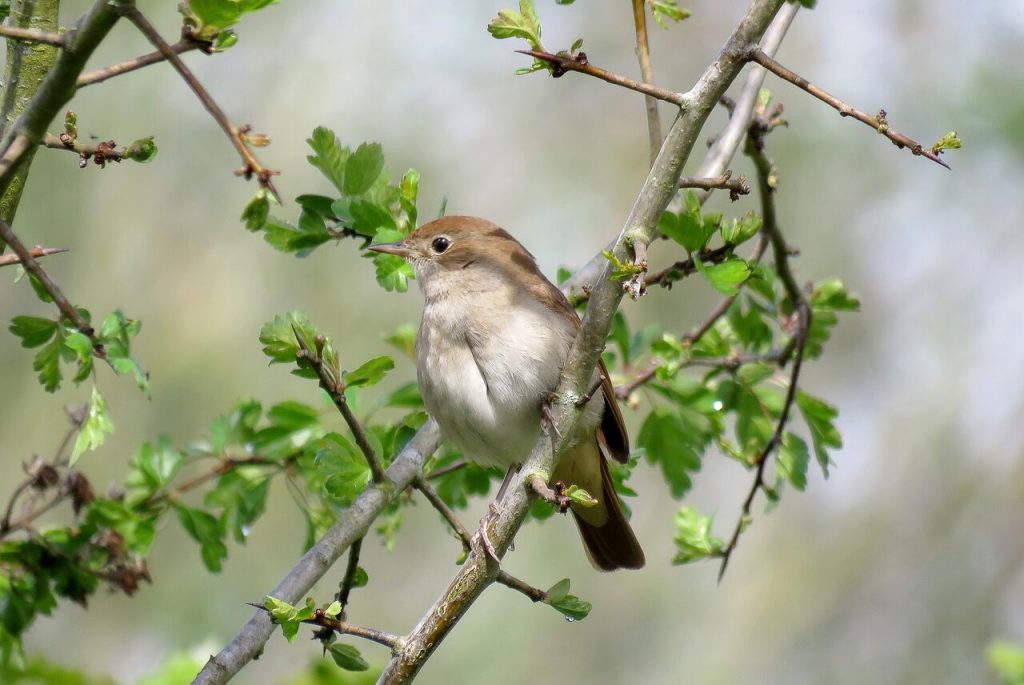 The glory of the Nightingale, as recognised by countless poets and writers over the years, is not in its looks (it is in fact a smallish rather drab brown bird) but the song. This is fortunate as they are much more easily heard than seen, being both powerful and persistent as well as glorious singers but with an annoying tendency to sing hidden away in dense thickets. Their preference is for dense young scrub, a habitat that is vulnerable both to excessive grazing from the abundant deer population (which makes it too thin) but also to natural succession as trees mature and shade out the understorey. With the decline of woodland coppicing, sites therefore tend to be short-lived unless suitable habitat management is undertaken.
Nightingales are a red-listed species, the British population having declined by over 50% over the last 25 years. It has also declined substantially in Surrey, although a little less drastically than nationally. It is therefore essential that the birds are allowed to breed undisturbed. They are not easy birds to see well but please do not harass or try to flush them attempting to get a view or photo. They will happily sing with you nearby and if you are patient will probably allow a glimpse at some point.
The most reliable area in Surrey is the Chiddingfold Forest complex, comprising Oldlands, Tugley, Oaken, Durfold and Fisherlane Woods and Botany Bay. The best spots vary from year to year depending on the habitat work undertaken. There is no main car park but various pull-ins with space for a few cars dotted around the area, e.g on Fisher Lane (SU982330 Tugley Wood), Highstreet Green (SU978348 Botany Bay) or Plaistow Road (SU993336 Oaken Wood). This is a relatively remote area poorly served by public transport. Spend an hour wandering the well-maintained trails from mid-April to early June and you should encounter a singing Nightingale, possibly several, though seeing one may be much trickier. Be aware that this is also a good area for Garden Warblers, another fine singer and a potential confusion species, but once you hear the more powerful Nightingale you will know it!
Sadly the population at a former stronghold on Bookham Common which was readily accessible by public transport (indeed they could sometimes be heard from the adjacent Bookham station) has dwindled to zero. However, work to restore suitable habitat and encourage their return has been undertaken and it may still be worth visiting and hoping you get lucky.
This has happened successfully at Milford Common, another former stronghold where they were absent for several years but have recently returned following habitat restoration. Parking is available in Webb Road, off the A286 just south of Milford. Head towards the scrubby areas in the centre of the Common and listen out.