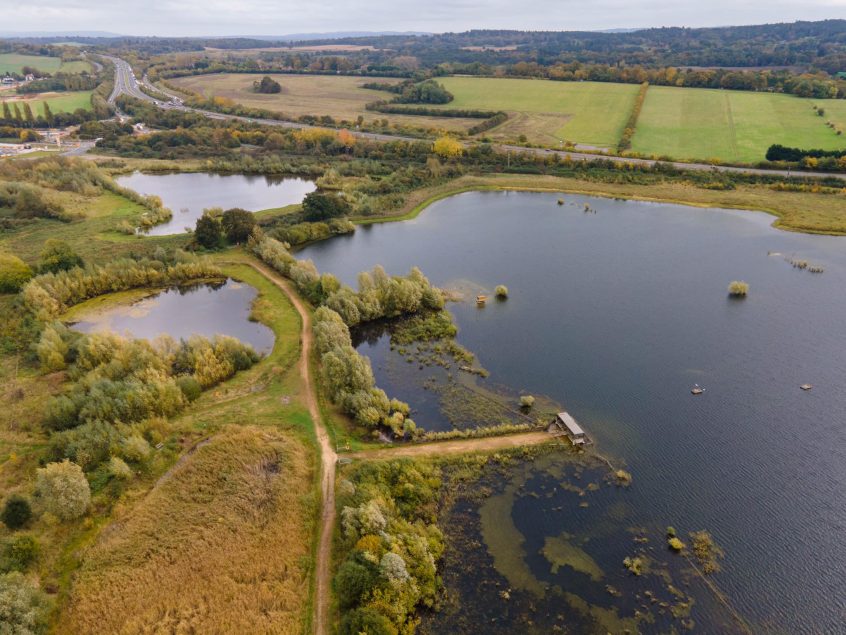 18/12/21
A partnership of six councils has come together to support the purchase of the nature reserve and protect it as open space for the community. Surrey County Council, supported by funding from Hampshire County Council, Guildford Borough Council, Waverley Borough Council, Rushmoor Borough Council and Farnham Town Council, has bought Tice's Meadow near Badshot Lea – on the outskirts of Farnham.
The land is 55 hectares (137 acres) of former quarry which is now fully restored as a nature reserve. It has been acquired from Hanson UK, and will become part of the Surrey County Council countryside estate. The long-term management plan for the site will be led by Surrey County Council together with its partners and stakeholders to support the development and maintenance of the grassland and wetland areas.
The Tice's Meadow Bird Group (TMBG) has spearheaded the transformation of the quarry and the campaign to prevent a sale to possible developers. They said that they are delighted to hear the news that Surrey County Council are the new owners of Tice's Meadow Nature Reserve. They would like to extend their thanks to all of the local conservation groups, and other bodies, and the members of the public, who backed the campaign to save Tice's Meadow. Over 11,000 people signed the petition to Hanson, and hundreds of local school children joined in the campaign by designing posters and visiting site. They would like to thank everyone who wrote to the press, lobbied local politicians, mobilised support amongst civic society, or helped in countless other ways.
There some exciting projects planned for 2022, including raising the Sand Martin bank, adding a biodiverse roof to the hide, a community tool store for Badshot Lea, hedge planting, and building 120 nest boxes for the local community. If anyone has some spare time, and would like to help make a difference, they would be very welcome to join the thriving volunteer community.
Photo: Aerial view of Tice's Meadow (Kyle Russell)