Where to see Spotted Flycatcher in Surrey
Spotted Flycatcher has undergone a wretched modern-day decline, with Breeding Bird Survey data showing a breeding population drop of 39% between 1995 and 2016. This is part of a staggering longer-term decline of 87 per cent since 1970, a trend that is recognisable in the steady drop in numbers in Surrey. The results of initial research indicate that more Spotted Flycatchers are dying during the first year of their lives and that this increased mortality is likely to be behind the population decline.

Despite this rather bleak outlook, and the fact there has been a steady decline in the county, Surrey in fact retains a rather healthy population of 'Spotflys', all things considered. Indeed, they are a relatively easy species to see in outer Surrey during the summer months, although their rather nondescript vocalisations doesn't help toward locating one. This article offers a selection of just a few of the sites where Spotted Flycatcher can be encountered in Surrey.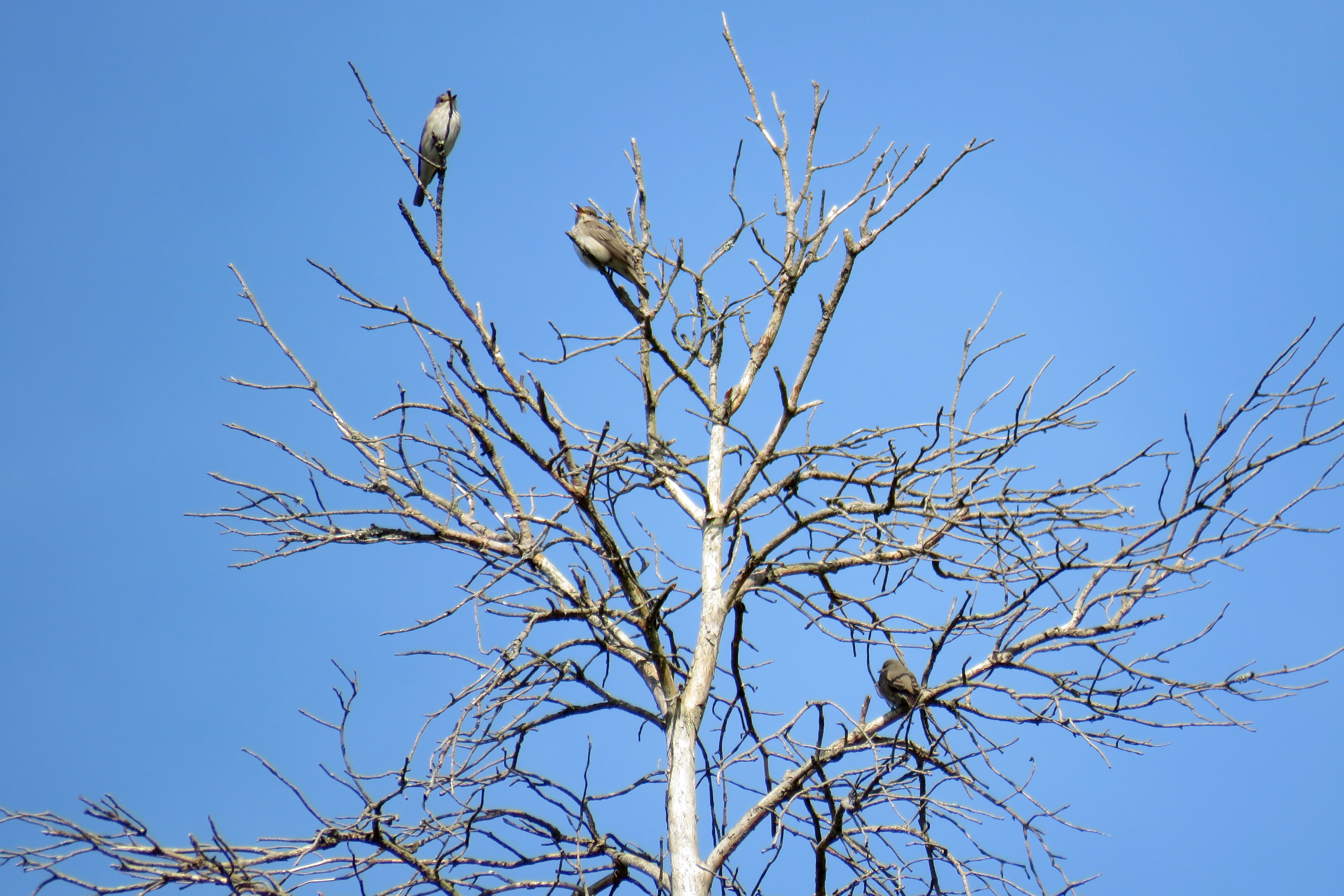 Frensham Ponds

Frensham Ponds is arguably the stronghold for Spotted Flycatcher in Surrey. In 2016 four pairs nested; seven did so in 2015. One of the better places to locate them is at the north end of the Little Pond between the National Trust café and the sluice, at roughly SU 859 418 . The trees surrounding and south of the car park at the Great Pond can also be productive. The River Wey north-west of Frensham Outlet Pond can also hold a pair.

Crooksbury Common

This small common is well-known for Nightjars and Woodcocks, but also has a good local reputation for Spotted Flycatchers. This year, as many as four pairs are present. One of the best places to view them is by walking the track north-west of the car park at roughly SU 893 454. The trees on the north side of the track are worth a scan and the birds can get in the paddocks beyond.

Leith Hill

Spotted Flycatcher is a regular summer visitor to Leith Hill. The best areas are west of Leith Hill Tower and Duke's Warren, with Whiteberry Gate and Broadmoor Bottom (roughly TQ 139 442) often reliable.

Thundry Meadows

This Surrey Wildlife Trust reserve normally harbours a pair or two, and this year is no exception. The area between the main woodland block and River Wey is best, with the pillbox (roughly SU 893 454) probably the most ideal place to look around.

Ockham Common

Spotted Flycatcher nest at Ockham Common in most years. The suitable-looking habitat near Semaphore Tower (TQ 088 584) and Currie's Clump (TQ 080 586) is recommended as a good place to check.

Farnham Heath RSPB

In recent years, Farnham Heath and the adjacent Tilford Rural Life Centre have become very reliable for Spotted Flycatcher, with as many as three pairs nesting. The pines on the heath at the back of the centre are a wise place to investigate, as are the trees and lawn outside the entrance to the museum. For good views, it's worth checking the wagon shed, where a pair often like to nest.

Thorncombe Street

There are several Spotted Flycatcher territories in the wider Thorncombe Street area, though the best spot is at Selhurst Common. The ivy-clad houses along the lane have two or three pairs in good years, though sadly the easiest property to view cut down their ivy last year. The birds may be picked up as they perch on wires. Park sensibly.

Bagshot Heath

Spotted Flycatcher often breeds on Bagshot Heath and did indeed last year. The west side of Surrey Hill, at roughly SU884639, is a good place to look.
Others reliable sites include Netley Heath, Thursley Common, Windlesham, Milford and Witley Commons and The Hurtwood. There are many other sites not mentioned, too. Away from the places discussed, birds have been reported this year at Ashtead Common, Puttenham Common, Winkworth Arboretum, Unstead Water Meadows, British Wildlife Centre (Newchapel) and Chiphouse Wood (Chipstead).
Indeed, any poorly watched area of suitable habitat is well worth exploring for Spotted Flycatcher. All data is precious – please submit any sightings to the Surrey Bird Club. Finally, if you know of any particularly good spots that are missing from this article, feel free to get in touch.